I've gone through a process of migration of a server, with help with provided migration scripts, and some hard-coded scripts to help synchronizing latest data, and permission fixing. All done well, and working fine now. However, all installation of services were default, and did not optimized for our needs.
There are few aspect of tuning need to be done, relative to your resource, in terms of available memory, harddisk I/O, and some other considerations. Surely, you want the best performance, with high level of security. At some point, there are some aspect that you should be compromised to get the best in other aspect.
Apache
There a few configuration that would need a change, for example, HostnameLookups. By default it was turned On. While turned on, it will add a latency to the request to resolve the IP before the request were completed. You can disable it by replacing it with
HostnameLookups off
DirectoryIndex negotiation is an option for you to determine what file to be the default file to be loaded in any document root. Avoid using wildcards, and enter the options specifically in httpd.conf file, ordered by the priority
For example:
DirectoryIndex index.php index.htm index.html index.shtml index.phtml Default.htm Default.html
Apache 2.0 equipped with Multi-Processor Module (MPM) which will handle apache connections, handling requests, and forking child process for the requests. There are a few options to chose from, and the most common are worker and prefork. Each of them have their own advantages and disadvantages. Make sure you read through the documentation to understand each options, and how they would help you apache process/request handling.
In my case, I'm using prefork.
StartServers 15
<IfModule prefork.c>
MinSpareServers 10
MaxSpareServers 25
</IfModule>
MaxClients 255
MaxRequestsPerChild 10000
If you are using cPanel, you can edit this in WHM Control Panel -> Service Configuration -> Apache Configuration -> Global Configuration.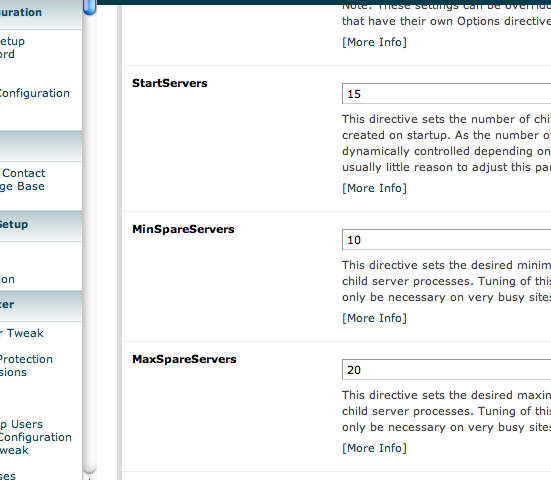 Continue reading →